AM-RAIL CONSTRUCTION, INC.™
TRACK DEPARTMENT
Am-Rail Construction, Inc. takes great pride in doing quality work in a cost-effective manner in the following areas: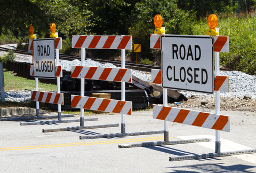 Crossing Upgrades
Level crossings can be controlled through either 'passive' or 'active' systems. Passive control systems provide warnings through signs and line markings. They do not react to the presence of an approaching train. Active traffic control systems warn road users of approaching trains. This warning consists of flashing lights and sounds (combined with static controls such a signs and pavement markings) which are triggered by a train. Another level of active control is achieved by placing a barrier between vehicles or pedestrians and trains. This is done with electro-mechanical devices such as pedestrian gates, vehicle boom barriers, used in combination with other active and passive controls. Grade separated crossings are the safest form of railway crossing. Grade separation is a very expensive option which involves building either an overpass or underpass to separate the train tracks and the road. In other cases, the road may be realigned to improve sight distance at uncontrolled rail crossings.
QUICK CONTACT INFO
CALL TOLL-FREE: (888) AMRAIL7
CALL TOLL-FREE: (888)-267-2457


HOURS OF OPERATION:
Monday-Thursday 8 AM - 5 PM
Closed 12 PM-1 PM for lunch
EMPLOYMENT OPPORTUNITIES
For an Am-Rail employment application, please click here:
You may also call (888)-267-2457.
Am-Rail Construction, Inc.™ is an equal opportunity employer.
Please contact us for any railroad track construction, maintenance, repair, or inspection needs you may have. We would like to add you to our growing list of satisfied customers.